Capuli Edible Fruit Tea Sampler Box
Build Your Own
Product Details
Try a little bit of everything!
The
best fruit tea sampler
or
self care box
to give to a friend or keep for yourself. :)
Enjoy 8 Capuli Single Packs of your choice.(You can manage and customize your selection and adjust the cadence of your box! )
Add any Capuli Club product to your box for and additional 20 % discount
-----------------------------------
✔ COMPLETE BEVERAGE! JUST ADD HOT WATER - We've done all the blending work for you! Pour an entire pack in a Cup or in a pot, add boiling water, cover, and let steep for at least 10 minutes. Drink the tea, nibble on the fruits, and re-steep if desired. Enjoy a whole new world of flavor!
✔2X FRUIT PER SERVING THAN A 100% FRUIT JUICE- this better for you new drink is full of natural flavor and contains on average about 12g of natural sugars compared to 39g of sugar in Starbucks Chai Tea latte.
✔ VEGAN, GLUTEN FREE, CAFFEINE FREE, NO ADDED SUGARS: Our clean drinks are a delicious and perfect snack for those with sweet teeth. Just let them steep for long enough and enjoy the natural sweetness and goodness for nature
✔SIMPLE, HEALTHY INGREDIENTS: We believe in pure simple ingredients. With our transparent packaging, you are able to see all the whole pieces of fruits and herbs in our blends. All of our fruits are ethically sourced from small farmers in the USA and Colombia. They are of the highest quality and naturally dehydrated for 12-14 hours in ovens without preservatives.
✔GREAT SNACK FOR CHILDREN: Our chai tea latte has 70% less sugar than Starbucks Chai tea latte made with soy. No carb crash required to enjoy this delightful drink.
✔BEAUTIFUL TASTEFUL GIFT: their unique and food-forward presentation makes them the perfect tasteful gift.
Functionality
What is Capuli?
Capuli is our name, and our Sips & Treats™ are a new type of dessert drink inspired by detox waters and traditional herbal infusions. Our Sips & Treats TM are our healthy, naturally sweet drink and snack; you can drink the infusion and nibble on the delicious, natural pieces of whole fruits.

Our signature blends of herbs, fruits, and spices open the door to a whole new world of flavor and health benefits. They are simple, healthy, sustainable, and beautiful. Just rehydrate, invigorate, and enjoy!
Much better than any juice or tea.
Healthful
made with whole
pieces of
imperfect fruits or
what farmers call
seconds.
2X fruit
1 cup of our Sips &
Treats contains twice
the servings of fruit as
1 cup of fruit
juice.
(per USDA Choose my plate)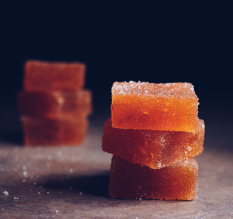 0g
of added sugars
Natural
Gluten Free
Preservative Free
Sulfide Free
Customize
flavors every
month.
Get 20% off
and FREE
shipping on any
additional order.
Join our
community and
enjoy a curated
mindfulness
guide.
Frequently Asked Questions
How do I prepare this blend?
To prepare this blend pour all contents (including herbal sachet) in a cup. Add the appropriate amount of boiling (100c-212F) water. Cover and let sit for at least 10 minutes. For our Share-ite (Pitcher) packs, we recommend 30 minutes. It is important to cover the drink because the fruits need to cook slowly so that they completely reconstitute and rehydrated. When the drink is ready you can sip on the drink and eat the fruits. Therefore it is called a Sip and Treat.
What do you mean when you say that you use imperfect fruits.
We craft our packs in Redmond WA and we source our local fruits, our apples, cherries, peaches, pears, and strawberries from small local farmers. We look to use what farmers call "seconds" or the misshapen or really rips fruits. We believe that our fruit selection is what makes our drinks so delicious. For our other more "exotic" fruits we source them from local distributors. However, in the future, we look to source them from small producers in fruit producing countries. Using seconds we look to do something about the waster discarded and celebrate imperfect beauty.
Can I drink these cold?
Most of our infusions cant be over steeped so you can prepare them warm and easily allow them to cool down in the refrigerator for an absolutely refreshing and delicious drink. For the ones with tea (Revitalizes Macha) or Orange Peel (Ginger Unwind) we recommend you take those ingredients out before allowing it to steep.
Can you re-steep these?
Yes, you can re-steep all of our drinks up to 2 times. You can also eat all the fruit the first time. :)
When should I drink this beverage?
Our Sips & Treats are perfec as: a night cap, a morning pick-me up, a mocktail to share with friends, as a light dessert after a meal, as treat after a work out or as a mindful drink with a book. For more how-tos with Capuli, check out our blog.